Other Fishing
Yellow-eye Rockfish: Daniel's favorite fish to eat these brightly-colored orange fish can get up to 40 pounds and live up to 100 years. They're a deep water rockfish that entails traveling to the Gulf of Alaska to find them. The limit is 1 per person per day.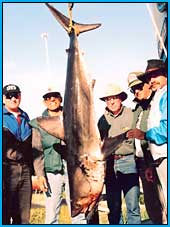 Salmon Shark: What a thrill to have one of these monsters on the line. They get up to 8 feet long and weigh up to 800 lbs. Although hard to get in the boat Daniel and his client have landed a 185 pounder on 20lb test hooked in the tail. What a fight! Hard to target because not concentrated in any one area so we just come across them every once in a while. Good to eat, you can keep 1 per day and 2 per year.
Other: Other sea life encountered in the Kachemak Bay/Cook Inlet Area are Black Sea Bass, Dolly Varden, Pacific True Cod, Pollock, Kelp Greenling, and Irish Lords. Most of these are wonderful eating fish and fun to catch.

Crab: There are 3 varieties of crab in Kachemak Bay: Tanner, Dungeness and King crab. Unfortunately, all types are closed to fishing at this time.